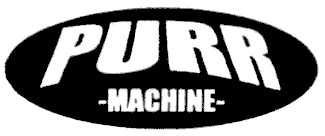 Purr Machine is comprised of Betsy Martin, formerly of the I.R.S. band Caterwaul, and Kevin Kipnis, from the premiere goth band Kommunity FK. Together, we have created a musical hybrid, incorporating techno, goth and industrial trance. Our focus in this band is solely to explore our passions for all of the various forms of music, accepting no limits.

Purr Machine has combined contradictory elements in its live shows as well, providing a musically hypnotic and dreamy atmosphere, punctuated with an energetic and pounding force. In this arena, Betsy becomes even more expressive as the genuinely blissful emotion of the music and the evocative presence of her voice blend to achieve a haunting live experience.

Prior to changing our name to Purr Machine, we released several songs on various compilations as ``Kore.'' The first to be released was ``The Goth Box'' on Cleopatra, which featured ``Flower.'' Next was the European release of Apolyon's ``Children of the Damned'', a tribute album for which we contributed our version of ``Life Goes On.'' Also on Apolyon, the soon to be released tribute to the Mission featuring our interpretation of ``Butterfly on a Wheel'' and most recently, ``The Vault'' compilation featuring the song ``Anise.''

-- Purr Machine, April 1997

Purr Machine is working hard to release an album this year.

---
Last modified on June 25, 1997 by Vance Haemmerle
vance@toyvax.Glendale.CA.US