My friend and ``world famous'' former Administrative Assistant for the Cassini ISS team, Noreen Conarro, meets Democratic Presidential Candidate and former California Governor Jerry Brown...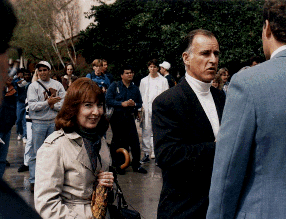 ... and Presidential candidate and U.S. Senator Bob Kerrey
After meeting Noreen, Bob Kerrey had no choice but to leave the 1992 Presidential race the very next day.
Noreen and I had fun trying to get a photo of her with each of the two candidates when they visited the University of Arizona campus on March 3, 1992.
---
Last modified on March 15, 1998 by Vance Haemmerle
vance@toyvax.Glendale.CA.US