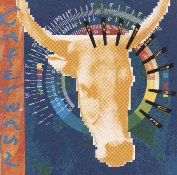 Portent Hue
Produced by David Ogilvie & Greg Reely
I.R.S. Records, 1990
Innerlooped | Alex' Aphrodisiac | Maybe in a Million Years | Husky Beatha | Good for You | Small Things in Heaven | Stumped | You'll Awaken | Manna and Quail | Big Ox Laughing | Seven Rabbits | Bulldosage | This Regret | Fissure

It's such that I could swallow in my tongue
and not notice
It's such that I could follow in myself and get lost
Innerself is something I could talk about
for hours and hours
Innerlooped ~ don't fear for me, I'm sure
you'll understand this time
Innerlooped ~ fear of knowledge
Innerlooped ~ tend my time
Innerlooped ~ don't tread the water
Innerlooped ~ as I feel for you

I lost my mind sometime ago, I'm sure
I would not be here
Had I known this could be what I am all about
You could sure tell me more ~ by myself I could
watch for hours and hours, and between us,
what I've never known was sure
Innerlooped ~ fear of knowledge
Innerlooped ~ tend my time
Innerlooped ~ don't tread the water
Innerlooped ~ as I feel for you

I could try harder than the first time but ~
I'm sure by now you could do the same for me
inside myself was lurking
you could do ~ Innerlooped
you could too ~ Innerlooped
              you could


Time to erase
time to think about
the sin in me
oh dear brothers
listen now in you silence
I'll start

Oh wire my eyes and hold them open
so I can see clear
the misery in me
I was so bad
a boy who was now led on to catastrophe

        Chorus
  All my life I wasn't told
  to see the right way clear
  the misery in me
  I was so bad
  oh my, the treachery in me in me in me
  I was wrong

In my mind it was the thing to do
But now oh I'm so remorseful
I was so bad, now
Pardon me, and let me back into society

       (Chorus)

Time to erase
time to think about
the sin in me
oh dear brothers, won't you
listen now in your silence
I'll go on

Oh wire my eyes and hold them open
so I can see clear
what lovely pictures in me in me in me
the gorgousity of this aphrodisiac in me in me in me

       (Chorus)


T'which I've never known
T'which I've never been
hold your breath and you'll be okay
Gather up your whiskerbed
'cuz we're lookin' past
           lookin' past

I wait for
  wait for
  a million years

T'all I've ever seen
T'what I've never done
by your leave, and I wouldn't care
gather in a nutshell
what you would never tell
               never tell

I wait for
  wait for
  a million years

Maybe, leastways is the best way of all
Maybe I'll go back there and come out ahead
Maybe, In a Million Years


Look at me now oh sugarlamb
all that I am and what I could
give to you
but my love is sure as I am
could give to you and now it
won't disappear
but oh my life is simple, simple
I'm sure it would be wrong to tell
more than I could give you, give you
I know it's all because
I love you
Sugerlamb now I'm sure you are
wait for you now and here I am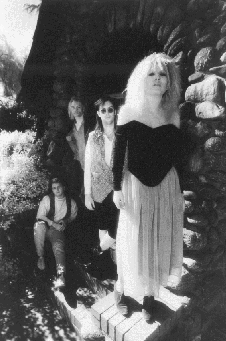 I wilt when I see your face
Angels hover over me
'Til you say these simple words
Scatter them away
Sour as I may now seem
well-wish isn't sentiment
I've heard way too much
I've got to get away

I don't want to hear
those words in my ear
these three words you
shoot them out
Good For You
Simple enough to say
these thoughts kept in my mind
harmless they may seem
Good For You

Banal as it all may seem
well-wish is a bad dream
Angels cover me from this
I've got to get away
While it seems so weird
these words so worse for wear
these three words you shoot them out
Good For You

I don't want to hear these words
             Good For You
These three words shoot them out
             Good For You
Simple enough to say
             Good For You
Harmless they may now seem
             Good For You


All this from my heart
this is from my heart
Here tells a tale, betrothed, of my love for you

          Here like a dove
          this is what I coo
          Oh like a bell with wings, I ring
          What I know!

Oh from my heart
Always from my heart
I will always be
adorned to you
Sweetpea!


Growl of the low kind
look now but don't pursue
dog of the bad kind
who's stumped

When it calls it howls
my first born thought kneel down, kneel down
what's a will to howl
And it's heard all around, around

All but to misbelieve
held to a point unwound
shook 'til I couldn't breathe
I'm stumped, let go my mouth

Pushed to the point on edge
look, but I won't pursue
jump, but I don't have the strength
I'm stumped, let go my mouth


You'll awaken
Oh see what's happening
Grab the scruffs up n'
tug a hold an ear
Harum Scarum run 'round
Now come to me!
Supper's coming
Come on now,
home to me!
It's sure to be
It's assured to be
It's so sure to be
Hurdy-Gurdy!


A hole in the sky
and down, down it came again
Oh how hard
and swept across, across the land
oh how long, how long to wait and reap again
oh our home, our home is gone, it's gone

       Chorus
  Endow them, Endow them
  Manna and Quail, Manna and Quail
  Endow them, Endow them
  Manna and Quail, Manna and Quail

And so it came to pass
And there the plenty manna was
Oh how dear, how dear the precious manna was
Save no more, no more 'til comes again, again
oh what for, so hard to understand

      (Chorus)

A hole in the sky
and down, down it fell again
ask what for
'til then to suffer pain again
save no more, no more 'til comes again, again
oh what for, so hard to understand

      (Chorus)

It's so, It's so desolate
It's so, It's so desolate
It's so, It's so desolate
Oh it's now, it's our home



I hear him big as thunder
Wheezing with the force of no one
I offer up to him
I see him smile the portent smile
This monster lumber dances
As I whimper, hiding nowhere
I try to understand
he's laughing now, he's laughing now

       Chorus
  I reach up to the sky
  to those unseen, the chosen few
  spread my will between the two
  Big Ox laughing, Portent Hue, the Same

The mighty ox has colors
more than oneself could conceive of
the great one has become a portent hue
a portent hue

This monster lumber dances
Spinning with the force of no one
he has become what he is
he is a Color Wheel Now

      (Chorus)

The Portant Hue delivers
messages of certain colors
I see into his eyes now
I understand the meaning

      (Chorus)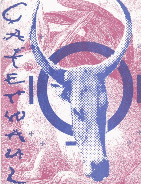 Gentle oh my thoughts provoke
Seven Rabbits in a row
may I try to change your view
but I can't sing sweet
if you won't begin to try
All my time I've spent to
try to change all all the hate that
you hold inside of you
gentle tho my love provokes
but I can't sing sweet if you
turn this all away

Wholly to the eyes of those
who see seven rabbits in the way
don't dare capture and don't dare
hold them close those who slip through
the hands to weak to hold
All my time I've spent to try
to change all the hate that you
hold inside of you
gentle tho my love provokes
but I can't sing sweet if you
turn your back but
oh my heart gets in
the way, it's enough
For you to say
that I can't get old
I won't get old
So I'll turn my back
I'll turn myself away


Wake up, see what's coming
open your eyes
but the daylight's just too bright to be seen
oh bulldozer, pushin' right here into my dreams
but it wasn't 'til I wanted it to

Wake up see what's coming
open your eyes
but the daylight's just too bright to be seen
oh bulldozer, pushin' right here into my dreams
feel it comin' right though into my veins
bulldozin' all around my mind
right here outta my head

While I was sleepin'
beautiful things
I was seeing
comin' right here into my dreams
bulldozin'
like a daylight dream into the night
pushin' right here into my life
Bulldozin'
all round my mind
right on through to my dreams
Bulldozin'
like a daylight dream in the night
pushin' right here outta my head


This regret
Hear my shame
See me now
this regret
Hear what for
this regret


What I took, for what was not
introvert, was I ever told?
Does it matter to your soul,
Would I see beneath your worth?
Would you know ~
But Believe
That it never really matters much at all

Introvert
the kind of source
I don't think that if you did it wouldn't matter
does he see beneath your worth?
             What you hold
             What you know
             But Believe
             But Believe
             But Believe
That it never really matters much at all

---
Last Updated on August 14, 1998 by Vance Haemmerle
vance@toyvax.Glendale.CA.US